The Talgarth man helping Wales achieve football success
Sunday 26th December 2021 5:00 pm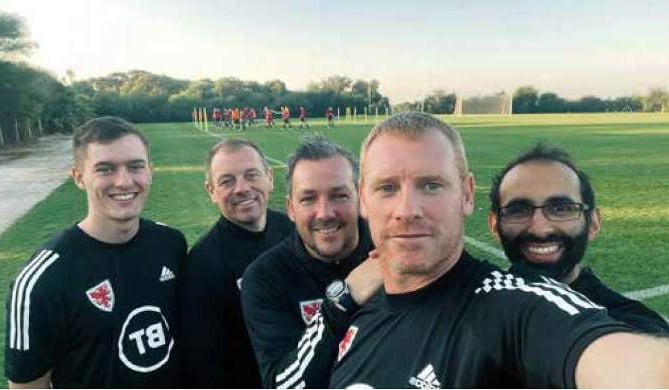 Gareth with former Wales and Leeds player Matty Jones, team manager Richard Williams, and analysts
Subscribe newsletter
Subscribe to our email and get updates right in your inbox.
Gareth Davies enjoyed an illustrious footballing career playing for Hereford United, Crystal Palace and Cardiff City, but he is now helping to develop the future of Welsh football as the Wales Under17's assistant coach, writes trainee reporter Josh Warn.
After Gareth was forced to retire from football due to injury in 2002, he took a break from the sport but found a new love for coaching in 2007 after his sons Rosgoch FC needed a new manager.
14 years later, Gareth is now on the cusp of achieving his UEFA Pro coaching license with the Welsh Football Association, meaning he could manage at Premier League level.
Through tutoring and mentoring aspiring coaches, he has helped the likes of Michael Arteta, Michael Essien and Peter Crouch.
Gareth said: "If someone had told 10-year-old me that I'd be teaching the likes of Thierry Henry, I'd say you're crazy."
This November, alongside Wales Under17's Head Coach Richard Williams, Gareth helped guide the Welsh squad to European qualification. Wales competed in the Under17's European qualifier tournament in Group 11, alongside Portugal, Ukraine and Kazakhstan.
Both Portugal and Ukraine were seeded teams in the tournament, meaning that Wales had to beat either side to guarantee qualification to the Under17 Elite European Championship draw.
Gareth said: "We were big underdogs against Ukraine and Portugal so to beat Ukraine 3-1 was a great result.
"Although we lost 2-0 to Portugal, their coaching staff said we concerned them."
In March 2022, Wales Under17's will compete in Group 7 accompanied by Slovenia, Turkey and Serbia in a bid to qualify for the European Championship Finals.
Although Gareth has tutored various footballing greats, it is the development of local coaches and young players that he and the Wales Football Association think is a key focus.
Gareth played football for Talgarth and Hay-on-Wye as a junior, so he understands the struggles that many young players may feel when thinking of a footballing future.
Gareth added: "We've got to look to the younger generations to find the next Gareth Bale. Just because we're in a rural area, you can still make it as a footballer."