Brecon lift second trophy of season after thumping Cwmbran
Wednesday 8th May 2019 2:23 pm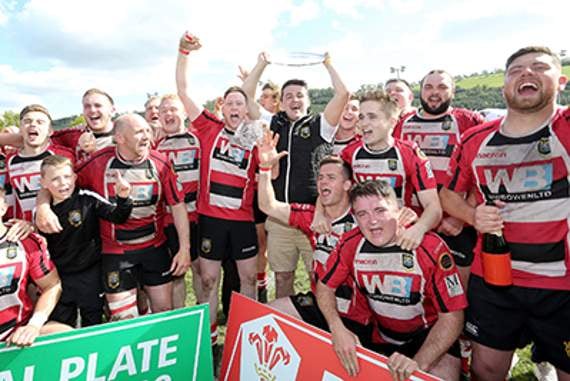 Brecon RFC celebrating their league and cup wins
Subscribe newsletter
Subscribe to our email and get updates right in your inbox.
BRECON RFC chairman Paul Amphlett has praised the support from the town during the club's double-winning season.
He has also issued a rallying cry for the excellent support, which included hundreds lining the streets of Brecon town centre as the team took a victory parade on a trailer pulled by a tractor, to continue as the WRU Plate winners face a two-leg promotion play-off against Glamorgan Wanderers.
Brecon secured the WRU League One East title with a bonus point win at Cwmbran in midweek to complete a historic double after their Plate success at the Principality Stadium the previous weekend.
The team was presented with a glass bowl by WRU director Rob Butcher for winning the league following Saturday's thumping 83 -17 victory over lowly Cwmbran.
But to earn promotion to the WRU National Championship, just one division below the Premiership, Brecon must face League One East Central Champions Glamorgan Wanderers in home and away legs with the first, at home, this Saturday, May 11.
The chairman said: "Brecon RFC would like to thank the town of Brecon for all their support over the past season and leading up to last weekend's momentous final.
"The achievement of this team are second to none, completing the double of the Plate and league this week, something no other Brecon side has ever done.
"The turnout of the crowds during last Monday's tractor and trailer ride was quite overwhelming, it has absolutely galvanised the town.
"These occasions do not happen overnight and a massive amount of hard work and commitment from all the players, coaches, backroom staff and committee members is essential. A huge thanks also to all our supporters, helpers, club house workers and stewardess, without these this wouldn't have been possible.
"Our players now take on a massive task in the play-offs over the next couple of weeks."
Former Premiership side Glamorgan Wanderers, who before leagues were introduced would regularly face the biggest clubs in Wales, won their division by 15 points this season and won 17 of 22 games, lost three and drew twice.
They will travel to Parc de Pugh on Saturday and host the return fixture in west Cardiff a week later.
The aggregate winner of the the play-off will be promoted along with the winners of the west division play-offs.
Paul said crowds at Pard de Pugh have averaged between 400 and 500 this season with interest growing as Brecon's success continued with the team having been in the top positions most of the season and only suffering their first loss a week before the Plate final.
A triumphant Brecon put Cwmbran to the sword, playing attractive 15 man rugby, following an ugly match at Cwmbran in midweek in which Brecon secured the league title with a 26-34 victory.
On Saturday Brecon wasted no time and had scored three trees, two converted, within the first 11 minutes.
First winger Lewys Cooke touched down under the posts to finish a move which involved great interplay between backs and forwards Jake Crockett, Davey Herdman, Owen Morgan and Eifion Jones, which Dean Gunter converted.
Despite failing to gather the kick-off Brecon scored again when Crockett collected the fortunate bounce to feed centre Eifion Jones, deputising for rested skipper Ewan Williams, who raced through the defence to score from a move that started at his own 10 metre line.
Left wing Ryan Price scored the third, which Gunter, also converted to finish a move that saw Brecon spin the ball from one side of the field to the the other.
Flanker Davey Herdman scored after prop Richie Davies secured the ball from the kick-off and Crockett added the conversion from in front of the post.
When Crockett was just held up after a great cover tackle from the Cwmbran right wing the forwards decided to take control with lock Will Proser getting the try. Gunter converted from wide out.
Cwmbran at last responded with their first period of pressure. Brecon, however, showed that their defence was equally as potent as their attack.
Suddenly they switched from defence to attack when from a scrum five metres from their own line fly-half Gunter put in an audacious chip over the Cwmbran defence. Crockett latched on to the ball and wonderful handling put Ryan Price into space and he raced to the line.
Cooke added his second and third tries soon after. First he finished a move that started close to their own 22 and after a loose ball, from a Cwmbran scrum in the home 22, was hacked forward which Cooke eventually picked up to complete his hat-trick. Gunter's conversion took Brecon's score to 52 points as half time was signalled.
Brecon scored almost immediately in the second half as Cwmbran lost possession on half way. Owen Morgan kicked the ball through, Cooke picked up, beat a few defenders and presented Richie Davies with a well-deserved run in for a try which the prop also converted.
Within minutes the next try was recorded as Dafydd Edwards demonstrated how elusive he was and then delivered a telling pass which allowed Eifion Jones to cross for his second try which Gunter converted. Geraint Workman then got in on the act as he broke blind from a scrum to score in the corner.
A loss of concentration allowed Cwmbran their first score when Brecon dropped the ball trying to run out of defence and failed to clear. The visitors failed to add the conversion.
Brecon responded with a try of their own when Johnny Bowen finished off after a barnstorming Darren Witcomb run. This time prop Howell Morgan converted.
For a period all the scoring went Cwmbran's way. A neat chip over the defence and a kind bounce led to a second try and a third followed almost immediately. With Brecon attacking in the visitors 22, Cwmbran's right wing James Tucker intercepted a pass and showed great pace to leave everyone in his wake to score under the posts. The try was converted.
One more try would have given the visitors a bonus point but it wasn't to be as Brecon closed the door and finished with a try. Man of the Match Chris Davies created the opening with a beautifully angled run. In space he fed Owen Morgan and he was never going to be caught.
Brecon were due to complete their regular season with a home fixture against Penallta on Wednesday, May 8.