Brecon RFC ready for 'big day out' at the Principality Stadium
Saturday 27th April 2019 8:00 am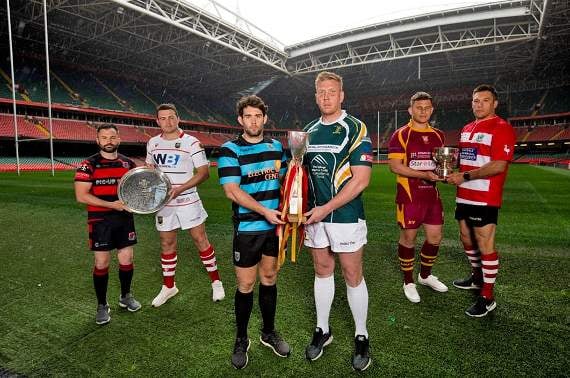 Plate Finalists Andrew Pritchard, captain of Bonymaen, and Ewan Williams, captain of Brecon; Cup Finalists Joe Tomlinson, captain of Cardiff, and Craig Locke, captain of Merthyr; and Bowl Finalists Ieuan James, captain of Abergavenny and Keir Ennis, captain of Oakdale with their respective trophies
Subscribe newsletter
Subscribe to our email and get updates right in your inbox.
WELSH rugby's four professional regions take centre stage at the Principality Stadium's Judgement Day event on Saturday.
But 24 hours after the Cardiff Blues clash with the Ospreys and Llanelli Scarlets face the Dragons from Newport the national stadium will be turned over to clubs from every level below the professional game.
Among the six clubs running out at the 74,000 seat stadium on Sunday, April 28 are Brecon RFC, making their debut at Cardiff's world famous rugby cathedral, and Bonymaen in the Plate final.
Brecon coach Andy Powell is no stranger to the big stage. He made his stadium debut in the European Cup in 2008 for Cardiff against Gloucester and his no compromising attitude in carrying the ball caught the eye of Wales coach Warren Gatland who, for a time, made him a fixture of the Welsh back row.
But despite all the highs he has experienced at the stadium, often when it has been filled to capacity, the now retired Powell has said coaching his hometown team in a cup final could be as special as anything else he has achieved in a career that has included a World Cup and a British Lions tour.
But the spotlight at the WRU National Finals Day should be on his charges, insists Powell. He and his assistant coach, former Wales international, Matthew J Watkins, have not only led Brecon to the Plate final but the team have set the standard in Division One East, which they lead by four points with three games remaining.
Powell, who is in his second season in charge at Parc De Pugh, told the union's WRU TV: "I said a few years ago I'd never coach Brecon, but I don't know what it is, I thought, let's have a challenge let's go and try and achieve something we've never done before. It's a special achievement for me, I've played there myself, and it's not about me, it's about these boys. Let's go out there and enjoy it. You know it hits home, and the hairs go up on my arm now just talking about it."
While the Principality Stadium isn't even expected to be close to half full on Sunday that will not diminish the occasion for the players or their clubs. Both Brecon and Bonymaen are expected to bring coach loads of spectators to Cardiff.
They will be joined by fans from Abergavenny and Oakdale, who play in the preceding Bowl final, and those of Cardiff RFC and Merthyr with the semi-professional Premiership sides meeting in the showpiece Cup final that is the climax to Sunday's rugby feast.
Brecon captain Ewan Williams, who had previously won the Plate at the stadium with former club Merthyr, acknowledged Sunday will be an important day for a club ingrained in its community.
The insurance broker whose father and uncle also captained Brecon in the 1980s said: "Most of the boys their father or grandfather or someone has played for Brecon. To give a day out to the town is great."
Bonymaen player Chris Moore also referred to the excitement among the Swansea club at running out at the home of Welsh rugby. He said: "I can't wait. We've all been there as supporters, to watch Wales, but to play there as a player is going to be very special."
On the pitch both Brecon and Bonymaen acknowledge they know little about each other and with both having been busy in their league fixtures have had little time to check each other out.
Brecon will be respected due to their strong position in the tough Division One East the division which is also home to last year's plate winners Brynmawr.
Outside half Dean Gunter is key to keeping Brecon moving. He has a reliable boot that keeps the scoreboard ticking over. Gunter also knows what it takes to win at the stadium he played a pivotal role when Premiership side Cross Keys won the National Cup with a 32-19 victory over Pontypridd in 2012.
Brecon's strong pack love to take the game to the opposition in the manner of their coach Powell while they have a young and exciting backline.
Brecon had been undefeated this season before losing a 33-32 thriller at in form Pontypool United last Saturday.
In the league Brecon have scored 101 tries and allowed just 31 scoring 691 points and giving up just 240 in 19 games.
Like Brecon Bonymaen have been enjoying an impressive league campaign but suffered a defeat in their last fixture before Sunday's outing to Cardiff.
Their 21 -14 loss at lowly Maesteg Celtic has left them in second place in Division One West Central and confirmed Ystalyfera as division champions.
Bonymaen have won 15 of 20 games in the league and suffered four defeats and one draw and have scored just less than half as many tries as Brecon. Over 20 games the Swansea men have scored 49 tries and allowed 32 scoring a total of 415 points and conceding 266.
Cardiff Blues player and Wales cap Rory Thornton is Bonymaen's forwards coach and Stuart Allen is head coach.
The lowdown on Sunday's National Finals Day
What time do the gates open and how much are tickets?
Gates open at 12 noon on Sunday, April 28 and general admission is £10 or £5 for children (16 and under)
What time are Brecon playing and what time do the other games kick-off?
Bonymaen V Brecon kicks-off at 3.15pm.
The first game is an all Gwent clash, Oakdale V Abergavenny (1pm) and the final game is the National Cup final Cardiff RFC v Merthyr at 5.35pm
Will the stadium roof be closed?
It is expected the roof will be closed for all three games and the two Judgement Day games that are taking place on Saturday
Yes. All three games will be shown live on S4C and its coverage starts from 12.15 Sunday afternoon
Is there anything else I need to know?
Yes. Brecon will be wearing a specially commissioned all white kit for the final to avoid any clash of their traditional red, white and black shirts with Bonymaen's black and red hoops