Campaigners bid to stamp out town post office changes
Sunday 17th July 2016 8:00 am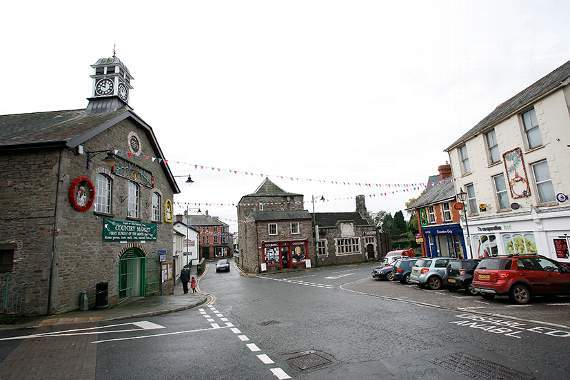 Talgarth and District Regeneration Group has opposed the changes and organised a petition
()
Subscribe newsletter
Subscribe to our email and get updates right in your inbox.
A campaign is underway to prevent the Post Office from closing a branch located inside a convenience shop.
The Post Office wants to close its branch at the Co-op store in Talgarth, which has two dedicated secure and confidential counters, and instead operate the services from the main retail counter of the shop in the town square.
It is claimed the move could result in the existing Post Office staff being made redundant, though it is thought they could re-apply for jobs in the convenience store.
The Post Office says it will still offer most of its products and services from the new counter and its opening hours will be extended to 10pm every night, as well as opening everyday at 7am.
However the plans have met a backlash from local residents, businesses and politicians - who are due to meet with Post Office bosses this week.
The Talgarth and District Regeneration Group has opposed the changes and organised a petition which, it says, is receiving widespread support from the local community.
Brecon and Radnorshire's Liberal Democrat Welsh Assembly Member Kirsty Williams and the town's county councillor William Powell have arranged a meeting with Post Office's external affairs manager this Friday which a representative of Talgarth Town Council and the regeneration group.
Chris Davies, Conservative MP for Brecon and Radnorshire, will also be at Talgarth Town Hall at 10am on Friday to address concerns about the plans.
Cllr William Powell said its feared the changes will result in an inferior service.
The Liberal Democrat said any downgrading of the branch would be a further blow to the town after its only bank closed in autumn 2014.
He said: "The fear is this represents a hollowing out or impoverishment of the service.
"That is something we strongly oppose and the real danger is when people have a sense they won't be able to have the same confidence in the service level they've previously had they will go elsewhere. That will be a massive loss to the community.
"The closure of the NatWest bank was announced in 2014 and at that time the community was reassured all of those services would be available at the Post Office.
"There is a skilled and longstanding team in Talgarth Post Office who play a vital role in the local community and they are very well known.
"Elderly and vulnerable people rely on the service and for some of them it may be the only social interaction they have.
"Another thing that is very important, that we mustn't forget, is local businesses rely on the Post Office for high volume transactions, whether that's stamps or cash."
Mr Powell said he is concerned if the Post Office closes its counter and, in its words "integrates" it into the main retail counter there will be a loss of privacy, which he said is important when dealing with financial transactions and pensions.
Mr Powell said he is concerned the plans have been brought forward to increase the retail floor space at the Co-op. He suggested the company could instead consider utilising its unused second floor for storage if it needs to increase its sales floor.
A consultation document, prepared by the Post Office, says the branch could have to close for up to seven days and could be refurbished in September or October.
It said: "In most cases Post Office and shop customers queue together but the Post Office service point will be clearly signed. A low level serving screen helps to aid privacy and there would be enough space for people to wait back from those being served. Post Office training also covers the protection of confidential information and personal data."
It said it will continue to have "appropriate security measures" and staff would be trained to Post Office standards.
The Post Office's consultation document states: "We're planning to make these changes in September/October 2016 and we'll put a poster up in branch at least two weeks before to let customers know the exact date and to tell them how we've considered the feedback. We'll make sure any disruption caused by the refurbishment is kept to a minimum."
The branch is currently only open Monday, Tuesdays, Thursdays and Fridays from 9am to 5.30pm and from 9am to 1pm on Wednesdays and Saturdays.
The Post Office is also seeking the public's views on its new mobile outreach service from outside Garth Village Hall in the village near Llangammarch Wells.
The mobile outreach service, will be operated by the postmaster from Llandrindod Wells Post Office, who would visit the community every week on Friday between 1.30pm to 2.30pm.
The new mobile service is located 120 metres from the previous branch at 17 Llais Yr Afon, which closed following the resignation of the postmaster and the withdrawal of the premises for Post Office use.
The same range of services will continue to be available. Customers can still collect benefits in cash using our everyday banking services or Post Office card account.
The Post Office has been operating the new service from Friday, July 1, it says to get restore its services to the local community as soon as possible, but is now inviting customers and interested parties to give their comments on the move in a six week public consultation.
Leighton Barrett, Post Office manager said: "We understand how important having a Post Office is to residents in Llangammarch Wells and we are confident that this new mobile outreach service will meet the needs of the local community and secure services for the future."
During the public consultation, Post Office Ltd welcomes feedback on any issues customers would like considered before a final decision is taken on this proposal. The consultation will close on August 23. Submissions can be made during the consultation by Freepost YOUR COMMENTS to Post Office Ltd, via email to [email protected], via the Customer Helpline on 03457 22 33 44 or Textphone 03457 22 33 55.
Customers can also share their views online through the quick and easy questionnaire at postofficeviews.co.uk with the branch code 22464499 for Llangamarch or 37763299 for Talgarth.