Residents urge Powys to 'say yes' to Llanigon Community Green Space
Wednesday 9th March 2022 12:00 pm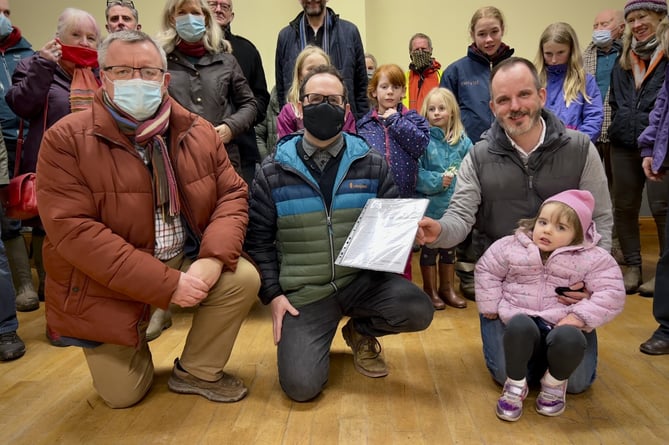 Cllr William Powell, Chair of Talgarth and District Regeneration Group William Lloyd, and Cllr Gareth Ratcliffe
(Janette Hill Images )
Subscribe newsletter
Subscribe to our email and get updates right in your inbox.
The Covid-19 Lockdown has served to make people in Wales appreciate the importance of access to open space as never before - but nowhere is this felt more acutely than in the Black Mountains village of Llanigon.
The last decade has seen Llanigon lose its once thriving village school, and with it its community focus and access to recreation facilities. Add to that the gradual disinvestment in the Powys County Council run Play Area and significant development of market sector housing, with no associated leisure provision, and the cause for discontent is clear.
In recent weeks, the 'Llanigon Community Green Space' Group has been formed to help achieve progress, especially for the young people of the village. In a matter of weeks, the local activists had gathered over 235 signatures in support of a petition to back their cause. It reads:
"We call upon Powys County Council to enter into negotiations with Community representatives, with the intention of the people of Llanigon taking possession of the now closed Llanigon School site as a Community Green Space for the Village and surrounding communities.'"
"We wish to take full possession of the School site on a long term basis and use it as a community asset, with a view to it providing the now growing Community with recreational facilities, including sports facilities, allotments and/or any other activities, as decided by the community from time to time."
In a press statement, the group further explained: "This petition shows the need for the green space to be retained for Llanigon and district residents. Regular access to a green space and the outdoors will bring communities together and improve physical and mental well-being.
"The community should be given the opportunity to retain and develop the site, and to make it fit for purpose. In short, it will be a locally-led green space, providing what local people need and deserve.'"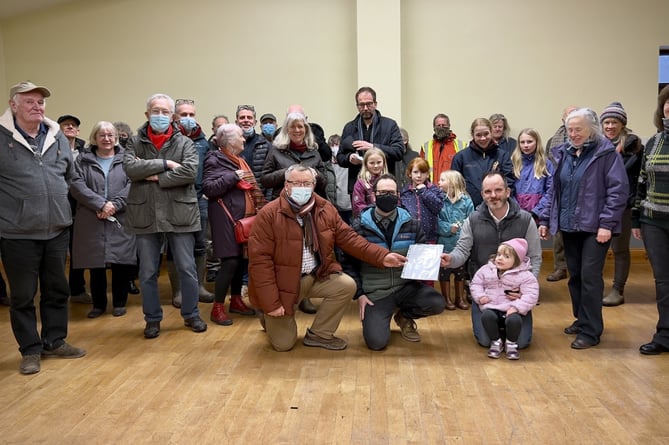 Resident with the petition
(Janette Hill Images ) (Janette Hill Images)
William Lloyd, Chair of Talgarth and District Regeneration Group and also a Gwernyfed Community Councillor, recently presented the petition to 'caretaker' County Councillors William Powell (Talgarth Ward) and Gareth Ratcliffe (local Member for Hay on Wye) at a specially organised briefing event in Llanigon Village Hall. Both councillors are currently working with colleagues to provide representation for local residents within Powys County Council, following the resignation of former Gwernyfed County Councillor, James Evans MS after Christmas.
Cllr William Lloyd commented: "It's clear from the number of signatures on this petition that this is a very emotive issue for Llanigon residents, we aren't asking for anything out of the ordinary here, we simply want to protect and improve our community green space that has been used by local people of all ages for decades, and want to secure it for generations to come."
Councillors Powell and Ratcliffe were also joined by Cllr James Gibson-Watt (Glasbury Ward) and they spent over an hour listening to villagers expressing their views and explaining their plans.
On receiving the petition, County Councillor William Powell said: "The level of signatures garnered in just a few weeks, as well as the conversations today, make it clear just how important this issue is for the village. Although progress on this matter will inevitably be interrupted by purdah, ahead of the forthcoming Powys County Council and Community Council elections, it's clear that local residents need and deserve much better access to dedicated Green Space.'
"The petition will be presented shortly to the outgoing Leader of Powys County Council, Cllr Rosemarie Harris (Llangynidr) – but it will be for the local representatives elected on the 5th May, at County and Community Council level, to get behind this campaign and help to bring about positive change for Llanigon.''
Comments
To leave a comment you need to create an account. |
All comments 0