Pub to host raffle to support Crickhowell volunteers at Ukraine border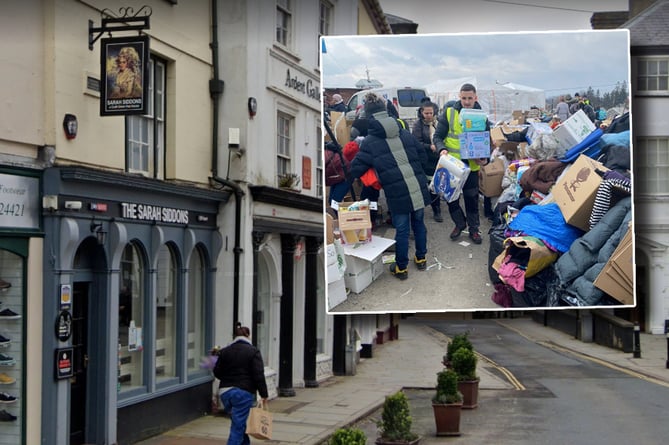 The Sarah Siddons pub - inset is Nathan helping at the Medyka border checkpoing
(Google Street View and Nathan Jones )
Subscribe newsletter
Subscribe to our email and get updates right in your inbox.
A Brecon pub is hosting a raffle and disco this weekend to help raise funds for Powys volunteers helping refugees at the Polish and Ukraine border.
Arranged by brother and sister Liam and Hannah Jones, the special event will take place at The Sarah Siddons on Saturday to raise money for their older brother Nathan Jones and his friend Dominic Davies who have been selflessly helping refugees at the Medyka border checkpoint.
The two on-call firefighters from Crickhowell were at the border from Monday, March 7, until the following Friday after making the spontaneous decision to help rather than sitting at home watching the Ukraine conflict on TV.
They are currently resting at home but planning to go back to the border to help next week with money raised via Liam's GoFundMe page - which has so far raised £1,165 - and the raffle at the Brecon High Street pub.
Nathan's hope is to kit out an ambulance which other volunteers bought at the border, which is serving the locals while their ambulances are in the war-torn cities like Kyiv, as well as buying energy boosting sweets and food.
Liam, who lives in Brecon with his partner where he has been helping with fundraising efforts, said he estimates that more than £2,000 has been raised so far based off the number of raffle tickets soled and reserved. He also said that "loads of prizes' have been donated from local businesses.
He said: "We've got lots of prizes from local shops who have aided our charity. It's going really, really well.
"I got the idea, it was literally last Wednesday, my brother rang me from Ukraine to tell me how much and what they needed and I thought to myself what can we do and I thought why don't we raise some money for it.
"I decided to do a GoFundMe page first of all which I think has raised over £700 then I thought, how can we raise a bit more so I thought about doing a raffle.
"By the Friday of that week, I had sold pretty much a full book of raffle tickets."
Liam then chose to advertise the raffle on Facebook which is when businesses started coming forward to offer prizes.
He said: "At the start, I had to ask businesses and by the end they were just sort of gifting them to me because it was such a good cause.
"I think we'll be having more again this week - we've been selling them every day, I've been driving to people's houses to sell them."
The 24-year-old, who works as a delivery office manager for the Royal Mail, commended the Sarah Siddons staff who have been helping to sell tickets as well as for hosting the event.
The raffle, which will be followed by a disco at the Brecon pub, includes various prizes from glamping to three course meals, to "endless bottles of wine".
Talking about his reaction when Nathan initially said he wanted to go to the border, Liam said: "When the war started, we were both watching and calling each other all the time and saying 'have you seen this, have you seen this' and we were both sort of fascinated by it.
"Then he had a week off and he said look, I want to go over there - he said, do you want to come with me? I would have liked to go but I couldn't get the time off work and all of a sudden, he was there then and that was it.
"He Facetimed me the following day in Ukraine which was a bit mad to be honest. I didn't think he was going to go but he did. He rang me three days in and he realised how bad it was, and he said how can we get charity to raise money for the people over there.
"There's one thing that he's really passionate about and that's this ambulance and that over there they're running out of supplies and he was thinking 'what can we do to help them as well'."
Liam said that his phone hasn't stopped ringing since he started fundraising and advertising the raffle.
He said: "The reaction has been amazing. My phone hadn't stopped. I've had to charge it three times a day and normally I only charge it overnight. It's been non-stop, which is good. "I've had people contact me from Liverpool - I've got people from away who've seen it. It has gone quite far because we've had people donating in dollars."
Anybody who is interested in buying tickets for the Raffle can purchase them at The Sarah Siddons, at the RAFA club or by contacting Liam directly.
The raffle will take place this Saturday, March 19, after the rugby.
Comments
To leave a comment you need to create an account. |
All comments 0