Over 150 animals at risk after rescue centre's water cut off
Owner says wildlife centre faces 'a real risk of closure'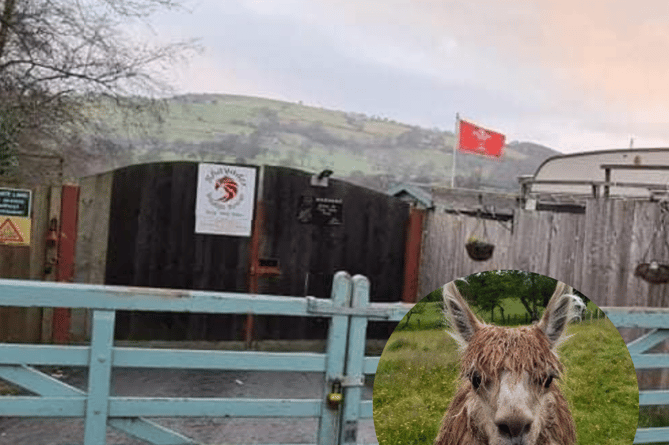 (Rhayader Wildlife Rescue )
Subscribe newsletter
Subscribe to our email and get updates right in your inbox.
The founder of a Powys wildlife rescue centre has said it faces a risk of closure, after access to its water source was cut off.
Tim Churchill, who owns Rhayader Wildlife Rescue centre, has been trying to run the facility without his normal water supply for the past four weeks. The centre, which is near Nantmel, is home to over 150 animals, including alpacas, goats, geese, ducks, chickens, parrots, birds of prey and Shetland ponies.
"Our usual supply, from a hilltop well, has been cut off," said Tim, who founded the centre in 2017.
"I've been using buckets and containers to lug water up from a stream for the past few weeks in order to keep the animals watered."
"This isn't sustainable - for us or the animals."
Vast amount of water are required to run the centre for animals to drink, as well as to wash wounds and for general cleaning. Water is vital for animals especially if injured, stressed or dehydrated.
Tim, who suffered a heart attack in 2015 and currently suffers from angina, is one of a team of just two who are transporting the water from the stream up to the various animals on site. Without access to a four-wheel-drive vehicle, six gruelling trips to the stream per day are required to maintain the running of the centre.
After contacting the authorities about the issue, Tim said he was quoted a fee of £5000 to connect the property to the mains water supply. He was told this work could take could take three months or more to complete.
"We're a self-funded rescue centre so this is a huge amount of money," said Tim.
"We decided to set up a fundraising page so people can donate if they wish. The community has been extremely generous and got behind us in the past, so we're hopeful that we can raise what we need - the support so far has been amazing."
In just over one week, the centre's fundraising total on JustGiving stands at over £2,900.
The centre also encompasses Valley View Falconry, an experience centre set against the beautiful backdrop of Mid Wales. The falconry revenue would usually be used to fund the rescue centre - although operations and opening have been severely disrupted by the outbreaks of avian flu in Powys.
Tim's current main concern is that the lack of a water supply could force the centre to close, putting the wildlife it houses at risk.
"We often take in animals that the RSPCA have turned away," said Tim.
"Where would these animals now go if we closed out doors? This is a very real animal welfare issue."
The COVID-19 pandemic has seen increased challenges for Tim and the centre. He explained that when the pandemic hit, demand increased and they saw an influx of domestic pets, chickens and backyard poultry come through their doors. In early 2020, a severely emaciated Shetland pony was found tied to the front gates of the centre.
"We took her in and footed the vet bills ourselves," said Tim.
"Thankfully she's doing much better and has now been adopted."
"It's been so challenging to keep everything going and this water issue makes things extremely difficult.
"There's a real risk of closure. If we can't resolve this - it could be the thing that shuts us."
To find out more about the fundraiser and make a donation, please visit: www.justgiving.com/crowdfunding/rhayaderwildlife-rescue
Comments
To leave a comment you need to create an account. |
All comments 0