Powys' main opposition leaders join up to oppose planned council tax increase
The main opposition group leaders have come together against the proposed budget and council tax increase in Powys.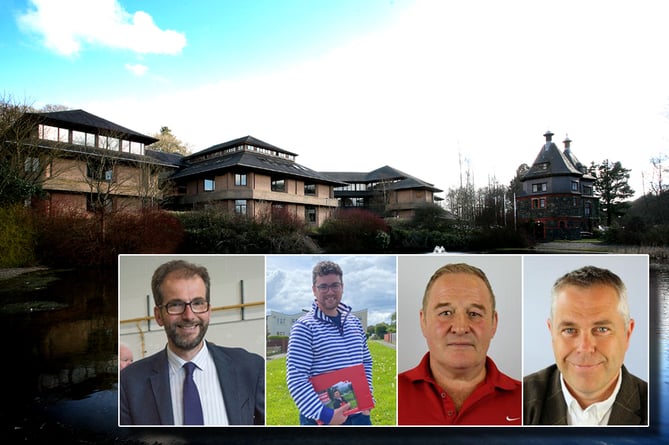 Left to right: James Gibson-Watt, Matthew Dorrance, Jeremy Pugh and Elwyn Vaughan
(Powys County Council )
Subscribe newsletter
Subscribe to our email and get updates right in your inbox.
Leaders of the main option groups on Powys County Council have banded together to oppose the council's proposed budget and council tax increase for 2022/23.
Powys council's Welsh Liberal Democrat leader James Gibson-Watt, Welsh Labour leader Matthew Dorrance, Action for Powys leader Jeremy Pugh, and Plaid Cymru leader Elwyn Vaughan have issued a joint statement, which was released on Monday, and signasl their opposition to the financial plans of the Independent and Conservative controlled council.
They said: "The Independent/Conservative cabinet's proposed 2022/23 Budget is more of the same. Hiking taxes and cutting services, including further cuts to arts and cultural organisations that threaten the future of the whole sector.
"We think Powys deserves better. It is also full of risk and savings proposals that lack credibility. There has been a serious lack of control of some departmental budgets over the past five years, which has led the cabinet to impose council tax increases amounting to 30 per cent since 2017.
"The latest 3.9 per cent increase comes despite the fact that the Council will receive a record 9.6 per cent increase in its grant from Welsh Government in 2022/23. It also comes at a time of huge increases in the costs of living and a 10 per cent National Insurance tax increase. It will be unaffordable for a lot hard-pressed families in Powys."
As well as the increase in costs of living and national insurance increase, residents will have to fork out more on their bills with the energy price cap rising by 54 per cent in April according to energy regulator Ofgem. The increase, which will come in on April 1, will see an increase of approximately £693 per year for households.
Ofgem has put the increase down a "record rise" in global gas price over the last six months with wholesale prices quadrupling in the last year despite energy companies recording billions of pounds worth of profits.
Powys council had previously said that protecting frontline services while keeping a council tax increase to a minimum had been a priority for this year's budget strategy.
However the group opposition leaders continued: "The inherent risks in the draft Budget, the absence of any credible plan from the Cabinet to bring departmental budgets under proper control and the fact that further significant extra funding is likely to reach the council between now and the end of March means it is impossible to propose an alternative Budget this year.
"We will be inviting the council to vote down the cabinet's proposed 2022/23 Budget in the first instance, to persuade the cabinet to think again and present a revised budget to council that contains less risk, more credibility and, above all, a lower council tax increase."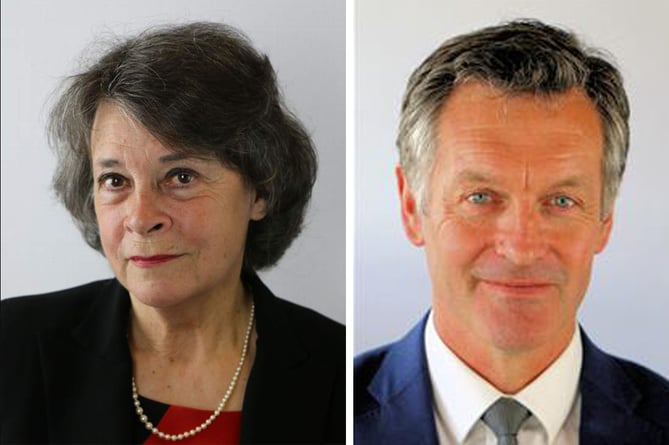 Council leader Rosemarie Harris and Powys Conservatives leader Aled Davies
(Powys County Council )
Both Powys County Council's leader, independent councillor Rosemarie Harris, and the leader of the Welsh Conservatives within Powys, Aled Davies have been approached for a comment.
Deputy Leader and Cabinet Member for Finance, Councillor Aled Davies has previously welcomed the Welsh Government's funding increase which he said would allow the cabinet to protect and invest in frontline services for 2022-2023 and recommend a 3.9 per cent council tax increase – around £1 per week for a Band d property - which is lower than the five per cent originally planned.
Cllr Davies previously said: "Despite the positive settlement we will continue to face significant challenges from population changes, increase service demands and expectations. We face rising costs and the cost of responding to the pandemic so must plan carefully for the future.
"The additional funding also comes with some new responsibilities and additional cost pressures for the council. We have taken the opportunity to review and updated our plans which have been developed as part of the overall strategic planning process alongside Vision 2025, the Council's Corporate Improvement Plan.
"The settlement for next year ensures that the council can meet the increased demand for our services, increasing inflationary costs, and support our investment in improvement and transformation.
"While we received a 9.6 per cent increase for the next financial year, we know that future settlements will return to lower levels of increase and are recommending a 3.9 per cent increase in council tax to maintain sustainable levels of budget and financial resilience over the next few years.
"We will continue to face financial pressures that outweigh the funding provided and will continue to focus on improving efficiency and as far as possible protecting crucial front-line services from cuts whilst transforming and improving the quality of our services.
"The county council is in a sound financial position thanks to careful budget management, but we cannot be complacent and must maintain a prudent approach. This year's recommendation includes investment in crucial services, cost reductions and a modest council tax increase.
"Powys' position has also been helped by recent national funding success, £22m from the UK Levelling Up Fund, for restoration of sections of the Montgomery Canal and projects in Llandrindod Wells and Brecon, and £22m for six innovative Powys projects under the UK Community Renewal Fund, following bids submitted by the County Council, community and voluntary groups, and partners."
Comments
To leave a comment you need to create an account. |
All comments 0