Councillors welcome Powys council's own cost of living support scheme
Tuesday 28th June 2022 4:00 pm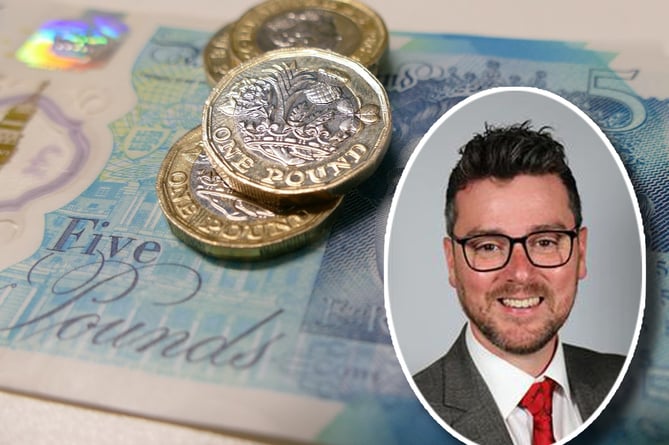 Matthew Dorrance inset over pound notes and coins
(Unsplash and Powys County Council )
Subscribe newsletter
Subscribe to our email and get updates right in your inbox.
Councillors have welcomed a tailor-made package of initiatives by the new Powys County Council administration to help residents deal with the cost-of-living crisis.
At a meeting of the council Economy, Residents and Communities scrutiny committee on Thursday, June 23 councillors looked at the Discretionary Cost of Living Support Scheme which is being proposed by deputy council leader and cabinet member for a Fairer Powys, Cllr Mathew Dorrance.
His proposals come on top of the main Cost of Living Support Scheme (COLSS) being rolled out across Wales.
This will see a payment of £150 to help deal with the cost-of-living crisis and live in a house which is the A to D council tax bands.
In Powys 36,000 households qualify for the scheme
The council has also been given £924,373 for its own scheme – which could rise to over £1 million, as money that is not taken up in the Government scheme can be added to the council's.
The payments will help those who don't qualify for this payment as well give more help with those in dire need as well as grants for organisations dealing with poverty.
Cllr Dorrance said: "This has not gone to the cabinet yet, I thought it was really important to hear what scrutiny have to say about the proposals and whether we have the balance right.
"I think this is a really positive scheme it's targeted to some of our most vulnerable residents and communities."
Cllr Karl Lewis as well as other councillors believed that more work needs to be done to find out exactly how many people are off the fuel grid.
This means don't have gas mains heating and have to deal with the rising cost of oil for home heating.
Cllr Lewis: said: "I would urge home heating focus to move away from fossil fuels and grants need to be available for ground and air source heat pumps."
He added that solar power also needed to be part of the mix that residents could consider installing with the help of a grant.
Cllr Adrian Jones added that fuel for transport costs also need to be considered in a rural area.
The report was approved by the committee and comments from the meeting will be added to the report before it goes to a future cabinet meeting for a decision.
The council support scheme includes:
£150 to residents receiving Disabled Council Tax Band reduction.
£150 to all residents who live in properties that are currently exempt.
£150 to families of children on Free School Meals who do not receive Council Tax reduction.
£150 to vulnerable young people
£150 to residents who have care needs.
£150 to residents who live in homes that have off-grid fuel supply
Home Loss Prevention Scheme – to directly prevent homelessness with help for rent arrears and support those in who have mortgages and at threat of losing their home.
£5,000 grant given to all foodbanks in Powys.
Up to £1,000 grant given to all breakfast clubs attached to schools.
£5,000 grants given to support agencies working directly with customers in need.
Fund set up to allow those in Powys Council who work directly with vulnerable residents to alleviate cost of living crisis needs as they come across it.
£250,000 to go towards Energy Efficiency schemes for the homes of vulnerable residents.
Comments
To leave a comment you need to create an account. |
All comments 0