Draw winners receive rugby shirt prizes
Wednesday 27th March 2019 1:37 pm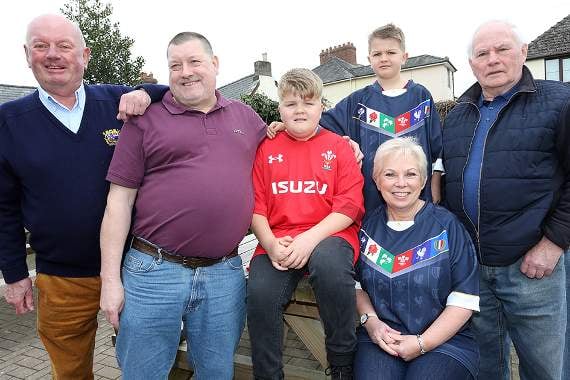 Subscribe newsletter
Subscribe to our email and get updates right in your inbox.
WALES' grand slam triumph in the Six Nations was followed by the handing out of shirts by Lorna and Butch Keylock to the winners of their raffle for Cancer Research Wales.
Martin Davies and Sandra Williams both won Six Nations shirts and Luca Thompson won the Welsh shirt.
Luca was away when the presentation was held so his shirt is worn by Cellan Vaughan, while his brother Cairin Vaughan is pictured wearing his own! They are the nephews of winner Martin who along with family support the charity in memory of Andrew Farr. Also in the picture is Brendan Cullinane, president of Brecon RFC and Sandra's dad, James Yapp.
Butch said a total of £4,485 was raised by this year's raffle and he was delighted with the new kiosk, called the Tardis, that the tickets are sold from. He said: "A very special thanks to the RAF boys for the new Tardis. It's drier, warmer and a lot easier to move. The sum of £4,485 was raised thanks to the support of all you good people, we cannot do it without you. On behalf of Brecon and Sennybridge committee, Lorna and I and people not so lucky as us thank you all so much. Well done Wales!"