Penybont United retained the Penybont Cup on Friday evening with a 2-1 victory over Felindre in an eventful final at The Racecourse.
It was believed to be the largest attendance in the final of this competition for approximately four decades and those spectators present were treated to another competitive encounter at the finale of this season's event.
The Polecats broke the deadlock after 32 minutes when a free-kick was played into their opponents' penalty area and Scott Davies was on hand to force the ball over the line from close range after the Felindre defence failed to clear the ball.
The Millers, who were playing in their first cup final for more than half a century, were back on level terms eight minutes after the interval after having pounced on a mistake in the Penybont United rearguard. The equaliser arrived moments after Kevin Martin and Cian Bufton had struck both uprights of the Felindre goal as the visitors rode their luck before finding a way back into the match.
Veteran striker Martin, who returned to action for the Polecats this week, was on hand to put the home team ahead in the 75th minute after the Millers' defence had failed to manage a free-kick played into their penalty area.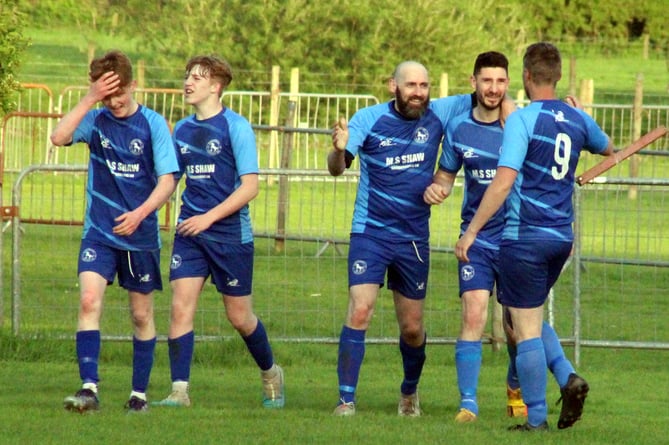 Striker Kevin Martin (centre) scored the winning goal for the Polecats
(Barcud-Coch Photography)
Felindre were reduced to ten players in the 86th minute, when goalkeeper George Morgan was shown a red card by referee Chris Corfield, but they were unable to fashion an equaliser that would have produced the third penalty shoot-out of Penybont Cup week.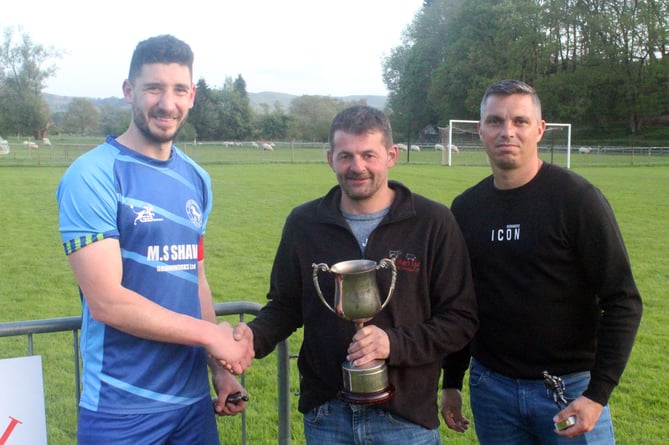 Polecats skipper Alphie Stonefield receives the trophy from the representative of match sponsor Bulk Agri
(Barcud-Coch Photography)
It was left to Polecats skipper Alphie Stonefield to receive the trophy from the representative of match sponsor Bulk Agri before the celebrations could commence.